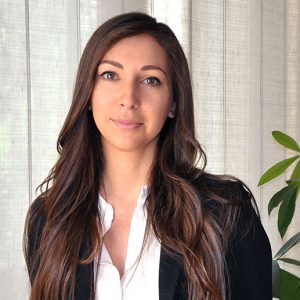 EDUCATION AND PROFESSIONAL QUALIFICATION
Law Degree 2013 – University of Turin
Licence to practise law in 2016

SPECIALIST FIELDS
Civil and commercial law
LANGUAGES
Italian
DANIELA PACIOLLA
Lawyer
Daniela Paciolla began her professional career at the law firm Ravinale Baldassarre Pereno Toninello e Associati in January 2017.
In 2013 she graduated in Commercial Law at the University of Turin under Prof Roberto Weigmann obtaining a score of 110/110 cum laude.
In December 2013 she began working at the law firm Fubini Jorio Cavalli e Associati in Turin, obtaining her licence to practise law in 2016.
Her professional activities centre on the fields of civil and commercial law, specifically company and bankruptcy law.  
In January 2013 she embarked upon a traineeship at the Court of Turin, 4th Civil Division, accompanying a Judge belonging to this Division and deepening her understanding of contractual and non-contractual civil liability.
Lawyer before the Courts of Turin.