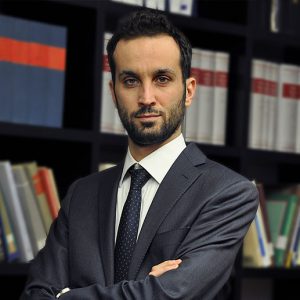 EDUCATION AND PROFESSIONAL QUALIFICATION
Law Degree 2010 – University of Turin
Licence to practise law in 2013
SPECIALIST FIELDS
Commercial and company law, contract management and procedures for recovering debts
LANGUAGES
Italian, English, Spanish
LUIGI VENUTI
Lawyer
After graduating in Law at the University of Turin with a thesis on international law and receiving the score 110/110, he has worked at the law firm Ravinale Baldassarre Pereno Toninello e Associati since November 2010.
He has gained experience in the field of civil law, specifically bankruptcy law, providing his support during the preparation of lists of liabilities and in disputes relating to both bankruptcy and non-bankruptcy proceedings, mainly as required under the Bankruptcy Procedure.
He has also turned his attention to commercial and company law, contract management and procedures for recovering debts, specifically delving into aspects concerning the analysis of balance sheets as well as civil, contractual and non-contractual liability.  
Lawyer before the Courts of Turin since 2013, in January 2018 he became a member of the Young Lawyers' Committee at the Turin Bar Association.